This is a Sponsored post written by me on behalf of Vectra flea & tick control for SocialSpark. All opinions are 100% mine.
I was so pleased to be invited to write about Vectra Flea and Tick control products for dogs because we have used this product first hand.
We acquired our first family pet 18 months ago and have always used Vectra to ward off fleas and ticks. She's only had 2 ticks her entire life and one of them fell off dead! I found it on her ear and she must have just picked it up a few hours before... when we were walking through some brush. I pulled back her hair to move it back and forth... trying to examine how attached it was. The sucker fell off in my hand. This wasn't a fat tick. It was a small ready to feed tick that I imagine got more than it bargained for when it bit into our canine.
I don't know if these results are typical, but that experience gave me a lot of confidence in Vectra. What's more, I've never found fleas on her, or in our home. You too can try Vectra, which is available at your local veternarian. Enter to win a free dose of Vectra flea & tick control and a $100 credit towards your next veternarian visit by visiting the Vectra Facebook giveaway page!
Vectra is quick and easy to apply and the instructions couldn't be more simple to follow. We usually give our girl a bath each month, then apply the Vectra 5 days later. This allows the natural oils in her skin to replenish before applying each month, which seems to the way to get the best results. If she gets wet in between applications, the Vectra is good. I don't know that I'd scrub your dog down after applying though... but if he or she takes a walk in the rain, there shouldn't be any problems. At least we've not encountered any!
So, once you've entered to win your free dose of Vectra and the $100 certificate, be sure you're following Vectra on Twitter @VectraPet. Entering the giveaway requires you "like" Vectra on Facebook. Following Vectra on social media will keep you in the know on all the lasted specials, incentives, and news.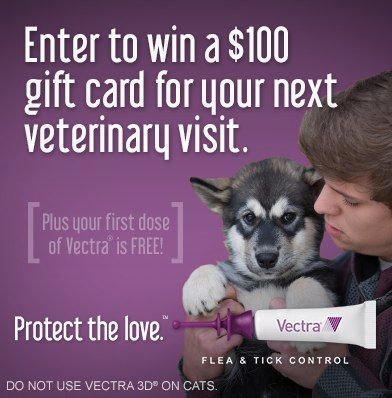 Be sure you don't use Vectra for dogs on cats! There is a special formula exclusive to felines. The canine formula/dose can make your kitty very ill.
What types of flea and trick treatments have you tried? Share your experiences and your thoughts about Vectra!